TOP > Status for Work (Working VISA)
To work and live in Japan
Japanese immigration law defines about 30 "status of residence". A foreigner who stays in Japan need to fulfill requirements of one of "status of residence".
"status of residence" for work
There are several status for a foreign national who wish to stay and work in Japan. Each "status of residence" defines activities on which a foreigner can do. So, it is very important to find out a proper status for your purpose.
The following "Status of Residence" are categorized into working visa.

And, Designated Activities u"Á'芈"®v is sometimes considered as a working status.
Requirements of each Status largely vary and depend on academic backgrounds and/or working experience, etc. of an applicant.
"Status of Residence" without work restriction
If your status of residence is one of the following status, you can stay in Japan and work, since there is no job restrictions.

Spouse or Child of Japanese national Spouse or Child of Permanent Resident Long Term Resident Permanent Resident Special Permanent Resident
(Status listed in Table II and Special Permanent Resident)
Procedures
Procedures depend on whether you are in Japan or outside of Japan, or how you have been staying in Japan so far.
Immigration Assistance
As a registered immigration/visa specialist or "Gyoseishoshi", we can offer various services related to immigration procedures.
Services we can offer are

Consultation - to find out Status of Residence/Procedures that may best suit you and/or your family member, etc.
Documentation - to prepare and/or advice the documents you need to submit to the Immigration Bureau
Representation/Agency - to submit the documents and communicate with the Immigration Bureau on your behalf

and so forth.
Please let us know your situation. Inquiry Form
Office Outline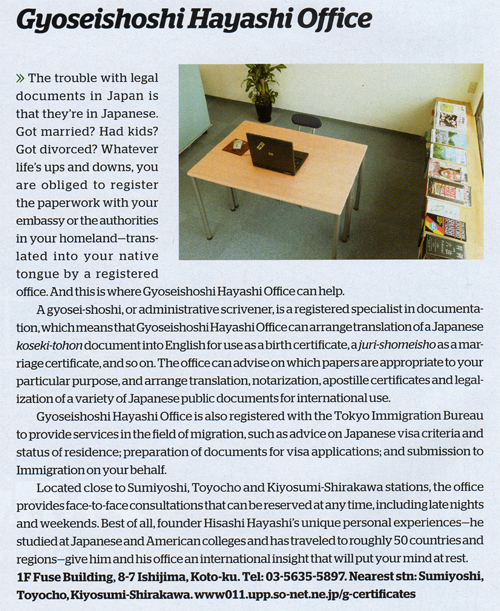 | | |
| --- | --- |
| | ARTICLE on METROPOLIS NO 852 |